Do You Need an Office Clearance Service in Streatham?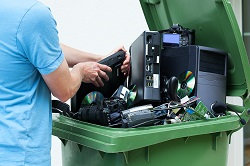 Rubbish Removal Streatham is the most reliable and well-reputed firm for office clearance in the SW16 and SW17 area. One of London's most popular clearance companies, we've been helping out people in Streatham for a significant amount of time, and the people who hire us come back with smiles again and again. Our typical commercial clearance services entail prompt and professional clearing of any aging furniture or other materials from your office, allowing you to resume business as soon as the circumstances allow.
We interact regularly with business owners, and understand that a full-scale office clearance can consume a lot of time, resources and effort on your part. In often frantic situations like these, with any number of important factors to consider, one of the things you can do to take some of the stress out of the equation is hire a fast, reliable and reasonably priced business waste removal service. If you have any queries about our services not answered here, call our team anytime on 020 8434 7398.
About Our Commercial Clearance Service in SW16
Our company is guided by a core belief that your business clearance should be straightforward and simple, without sacrificing any quality or professionalism on our part. We take care of this through a rigid system of planning out each of our commercial clearance jobs, completed on your part in simple steps. First of all, use our simple online system to arrange your commercial waste disposal at a time that's convenient for you. Wherever your business operates in SW16, one of our informed and helpful surveyors will come to your property when you expect them, and go over each and every item that needs collection. Through this process, we can provide you with a free and accurate quote with everything on the table, and no nasty hidden fees further down the line. Should you choose us for your business waste removal, one of our agents will contact you shortly after you accept the quote to arrange a date and time that's best for you. If you have any items you need removing which you feel may have special requirements, feel free to call us anytime on 020 8434 7398.
Why Choose Our Office Clearance in Streatham?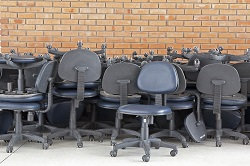 There are several great advantages to hiring our Streatham office clearance services rather than a run-of-the-mill skip hire company. As a business owner or other executive, you may have Duty of Care among your many responsibilities. This means that when your business ends up with excess materials, it's your duty by law to make sure they are disposed of correctly. Negligence of this duty, especially if you're storing your office rubbish somewhere around your place of business in SW17, could result in a substantial fine. To tackle this problem at its source, call us today, and sit back knowing your office waste clearance is taken care of. Our services cover clearing office furniture, no matter how large or small the pieces are, disposing general waste, stripping out of any dilapidations you specify in the quoting stage, as well as the secure destruction of both printed and electronic data, so that when you are relocating or refurbishing, you know for certain that your company's files are protected. If you want more specific details about our options, call us on 020 8434 7398.
In our line of work, we've come to see that an increasing demographic of business owners want their firms to be as eco-friendly as possible in all of their operations. In times of a big office overhaul in Streatham, this principle can unfortunately fall to the bottom of the list. At Rubbish Removal Streatham, we are committed to recycling every piece of waste we possibly can, and increasing awareness for the importance of recycling.